Sherwoodweb.org
Prof. Kenneth Sherwood
Sutton 347
Office hours through GCal. Please email Sherwood AT iup DOT edu for appointments.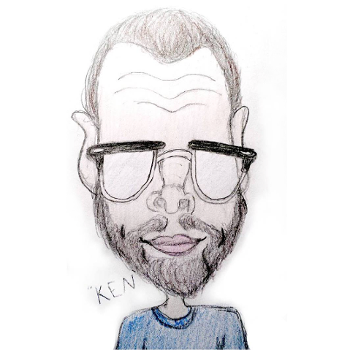 Teaching
Spring 2017
Fall 2016
Summer 2016
Spring 2016
Prior Teaching
Sites of "historical" interest. Some links may be broken; no longer maintained.
Projects
Digital Humanities
The Center for Digital Humanities and Culture (DHC) at IUP supports scholarship, proof-of-concept explorations, and project applications of digital technologies in Humanistic inquiry. It recognizes that today technology saturates the entire academic sphere, from classroom, to library, to lab. It aims to facilitate conversation, collaboration, and resource sharing amongst specialists within the disciplines. It seeks to make connections between new technologies and traditional knowledge areas, as the academy navigates the "print-to-digital" paradigm shift. Former projects include Audibleword.org, Reading Rebooted, and the Open Source Toolkit. Our current project is developing a Women's Diary archive with Dr. Tanya Heflin, using Omeka.
Distanced Sounding
Research in the digital analysis and visualization of poetry audio.
This work has been facilitated by the NEH Hipstas project. A preliminary research report on my work with "versioning" appears at U Penn's Jacket 2: "Distanced sounding: ARLO as a tool for the analysis and visualization of versioning phenomena within poetry audio"
IUP and Community Service
Mentoring
The doctoral program in Literature and Criticism provides extensive mentoring for 1st and 2nd year TAs. I have coordinated the mentoring program since Fall of 2012
ACPAC Technology Vision Committee
I have been active in ACPAC (Academic Computing Policy Advisory Committee) for a decade, previously chairing the Emerging Technology Sub-Committee. This grouped helped to bring blogging to IUP. In Summer 2014, I helped to reorganize the ACPAC sub-committee structure and now co-chair the standing Vision subcommittee with Dr. Mike Powers. We have a full agenda for the upcoming year
IUP Sailing Club
Founder and faculty advisor, I enjoy spending time with members of the Sailing Club at Yellow Creek State Park whenever possible. My service here is complimented by community involvement as chair of the non-profit Friends of Yellow Creek and volunteering for the board of the Moraine Sailing Club